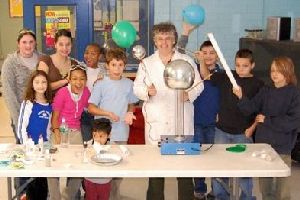 Big Thinkers Afterschool Science Clubs ignite students curiosity after the bell rings. Science clubs meet once a week at a designated time and place within the school. There is an exciting new topic every week, each with a cool take-home project allowing the child to further extend the Big Thinkers experience!
Our curriculum is taught by our engaging and expert Big Thinkers Instructors. Kids love our instructors! The Big Thinker Afterschool Science Club is sure to be an experience your "little scientist" will enjoy, week after week!
Big Thinkers Afterschool Science Clubs not at your school yet? No worries. Setting up your Science Club is easy! Just choose the day and time and we do the rest. We handle everything from registration to classroom clean-up. Big Thinkers is the ultimate in afterschool programming. To learn more about setting up a club at your school, contact us.